Our

commitment

To philanthropy is
seeded in our roots
Consider a tree for a moment. As beautiful as trees are to look at, we don't see what goes on underground - as they grow roots.

Trees must develop deep roots in order to grow strong and produce their beauty.
Joyce Meyer
The JCF was founded
The JCF was founded by a group of community leaders with Arthur Pascal being the first President.

These leaders set out with a mission to create a system of giving back that allows the Jewish community to continually thrive, nourish, and grow.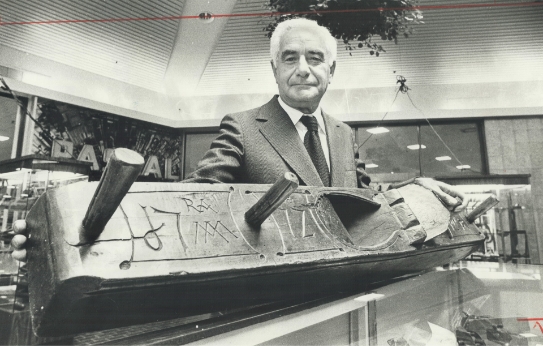 1967
Saidye Bronfman Centre

(now the Segal Centre for Performing Arts) opens.
1975
Jewish Education Council of Greater Montreal (BJEC) – The aims were "to serve as a community body for strengthening Jewish education in Montreal".
1977
Projet Action Rapprochement (PAR) was developed to encourage greater understanding between Jews and non-Jews.
1979
First Ethiopian Jews emigrated to Montreal with the sponsorship of the Jewish Immigrant Aid Services of Canada (JIAS, now Agence Ometz), local Jewish families and pro-Ethiopian Jewish organizations.
Committed to our
1985
JCF develops grant making process for new community initiatives , first grant launched to

Hope and Cope.

Festival Sépharade is launched.
1991
Collapse of Soviet Union leads to arrival of more than 3400 Russian Jews in Montreal.
1994
JCF reaches

$25 million.

Robert Kleinman

Joins as Executive Director.
1996
Operation Montreal launched to create a capital fund that would serve the future of Montreal's Jewish community.
1997
JCF reaches

$50 million.

Board establishes strategy of the JCF to be an independent organization with a donor centered approach.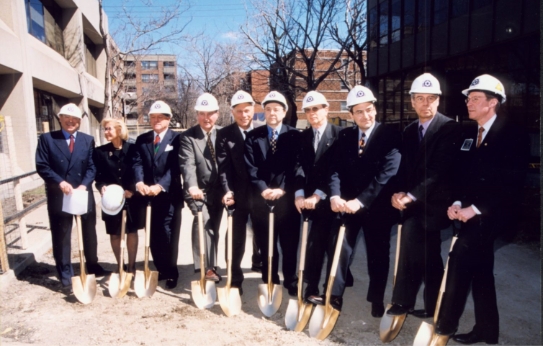 1999
Renovated Cummings House opens – central address of the Jewish community. Home to Federation, Gelber Centre and Jewish Public Library.
Committed to our
Community
2003
The new Holocaust Museum opens.
2008
Ometz created out of the merger of Jewish Family Services, Jewish Immigrant Aid Services and Jewish Employment Services.
2014
Kathy Assayag

joins as Executive Director.
JCF reaches

$366 million

in assets and 1,600 funds.
2017
Federation CJA raises over $100 million dollars with the support of the JCF, co-chaired by Gail Adelson Marcovitz and Jack Hasen.
2020
JCF deploys $1.5 million dollars to respond to urgent community needs in relation to Covid-19, in partnership with Federation CJA.
June 2021
strategic plan

approved by JCF board.

JCF Celebrates

50 Years

of success in promoting Smart Philanthropy.
billion

assets under management

number of funds

million

granted to charities and programs
Committed to our
Future
The JCF has gained the ability to have a foundation that
supports so much in and outside the community with great accomplishment.
The JCF has provided me and our family fabulous resources and guidance to establish excellent parameters for our philanthropy.

The sophisticated guidance, the genuine empathetic understanding of our needs for flexibility, knowledge of the numerous intergenerational complexities were all handled with professionalism and panache. At the outset we were giving consideration to our own foundation. However, with the depth of intellect, reporting and resources that we are able to take advantage of at the JCF, we were able to have more net funds to distribute on an annual basis rather than running a private foundation.

Jonathan Wener

Over the past years, the JCF has become a consistent ally for me in creating and fostering deep-rooted client relationships.

They not only have the highest level of technical knowledge but they understand and offer a holistic approach that speaks to my clients' values.

Sylvie Amar

When we sold our family business, we benefited from the Jewish Community Foundation's sound fiscal advice, which has allowed us to maximize our giving. Janie and I are particularly grateful that the JCF's team of experts took the time to truly understand our philanthropic goals: meeting first with us, then our children and their partners, as well as our grandchildren.

Thanks to the JCF, generations of Etinsons are learning the meaning of tzedakah.

Michael Etinson

The JCF provides top-notch tax smart advice. That is why my colleagues and I rely on them for our charitable giving. We highly recommend their professional services to our clients and their advisors. The JCF is simply goodness at the highest level.

David Forest

When I was a very young girl, I would lie down in the back seat of the car when I was traveling with my family. Every once in a while I would pop up to ask,

"Am I missing anything?"

The Jewish Community Foundation is an organization that attempts not to miss anything, anything that could protect and benefit our community, especially Jewish life here and abroad.

Miriam Roland

I've been working closely with the JCF for over 10 years. In our practice, we strive to offer clients an impeccable wealth management experience. It is safe to say that with the JCF, we have found a partner that delivers that same level of service and dedication.

Whether it be for my for my client's or my own philanthropic objectives, the JCF has consistently been a resource of choice – both for day-to-day donor advised fund needs but also for more advanced planning strategies.

Steve Sebag
What
people

say about us...

Click below to see more.
Shinshinim

Shira Choir

Jewish General Hospital

Chez Doris
Cummings Centre

MADA

Auberege Shalom

Federation CJA
YidLife Crisis

Jewish Public Library

The Family Store

Ometz